ABOUT SANDALS LA TOC GOLF RESORT & SPA IN ST. LUCIA :
Location: St. Lucia
Set along a half-mile crescent-shaped beach, this 210-acre enclave that is part of Sandals Signature Spa Collection takes you to height of glamour. No detail has been spared to bring you an infinitely romantic getaway on an exotic island that boasts the world's only drive-through volcano. From the largest freshwater pool in the Eastern Caribbean... to our own rolling fairways... to the magnificent new Villa Suites on Sunset Bluff, Sandals Regency St. Lucia Golf Resort & Spa is an enormous tropical world onto itself. Dine at 6 world-class gourmet restaurants on site, where award-winning chefs create a multitude of culinary sensations. Sandals La Toc St. Lucia is the absolute height of perfection.
Exclusive Villas Suites on Sunset Bluff
For those who want to put themselves on the leading edge of luxury literally, Sandals La Toc St. Lucia Golf Resort & Spa offers the Villa Suites on Sunset Bluff. Lavish one and two-story suites perched atop a magnificent coral bluff... all with unforgettable panoramic ocean views... all with Jacuzzi baths... some with private plunge pools.
Sandals offers an extraordinary rendition of everything under the sun and surf. From lounging on an ever-stretching beach, to making all sorts of waves with windsurfing, sailing and kayaking (waterskiing is available at nearby Sandals Grande St. Lucian). Of course, whether you scratch the sapphire surface snorkeling or go to greater depths Scuba diving, Sandals is always about fun and exciting choices. Land lovers love scoring at tennis, racquetball and outdoor chess featuring life-size pawns. In fact, there are no limits to your Sandals vacation. And to top it all off, Sandals exclusive "Stay at One, Play at Three" program gives you full exchange privileges at neighboring Sandals Grande St Lucian and Sandals Halcyon Beach.
The high glamour of Sandals La Toc St. Lucia is also reflected in its gourmet dining. No other resort in the island can boast six world-class specialty restaurants, each with creative menus inspired by the world's most renowned cuisines. Each of our six specialty restaurants presents a unique decor designed to match your mood. From the candle-lit elegance of a Continental dining room... to the romantic intimacy of a French bistro. Sandals regency St. Lucia lets you expand your dining options even further with our "Dine Around" program at nearby Sandals Halcyon and Sandals Grande St. Lucian, for a total of 17 world-class choices.
Golf
We offer a magnificent course with rolling hills and majestic fairways directly on the premises. With 9 greens, the narrow fairways make the course a challenge for the best of golfers. Green fees are included. Caddies are not included but mandatory. Golf carts and clubs can be rented for an additional charge.
CLICK HERE TO REQUEST A



SANDALS RESORT PRICE QUOTE
Included in the Ultra All Inclusive Sandals Resort Price: Airport Transfers, All Meals/Snacks, Accommodations, Drinks & Cocktails, Tips & Gratuities, Water Sports, Scuba Diving (small fee), Land Sports, Fitness Center, Golf (at some resorts), Nightly Entertainment, Hotel Taxes, and Even the Sandals Weddings are free!!!
CLICK ON ONE OF THESE PICTURES
FOR MORE INFORMATION ABOUT SANDALS LA TOC GOLF RESORT & SPA IN ST. LUCIA !!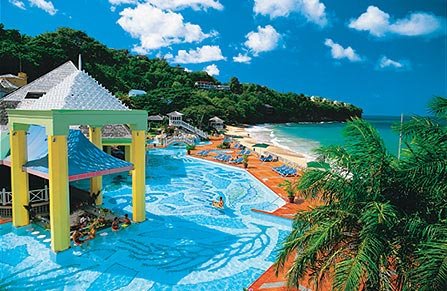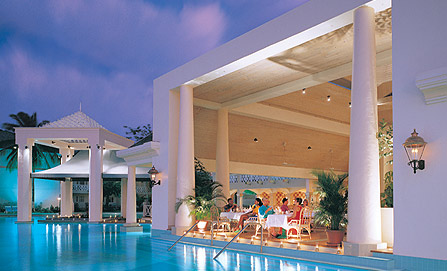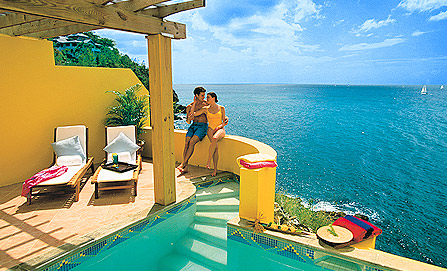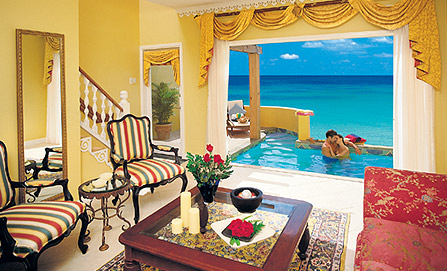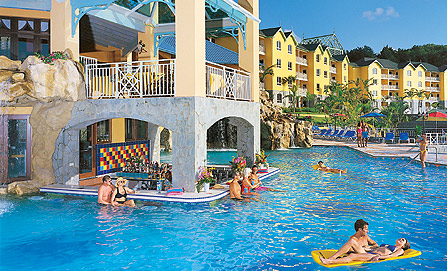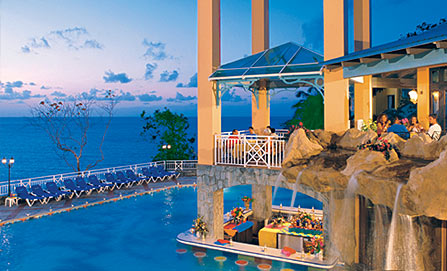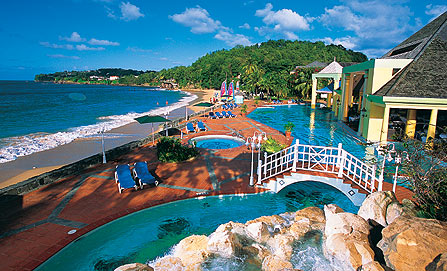 BEACHES RESORTS
GRAND PINEAPPLE BEACH RESORTS